VIBRATING SCREENS

Vibrating screen for stand alone or multiple installations are manufactured in a wide range of sizes for varying application and production demands. Each unit is compatible with all screening systems and can be integrated into existing and current processing plants.


Advantages of Vibrating Screen and Vibrating Separator include :

Accuracy of sizing
Increased capacity per square foot
Low maintenance cost per ton of material handled
Saving in installation space and weight.

Typical applications are Wet and Dry products for producers who demand constant high production. To maximize efficiency DMP have produced an advanced range of options, which include: Variable Angling, Spray Bars fitted on all decks.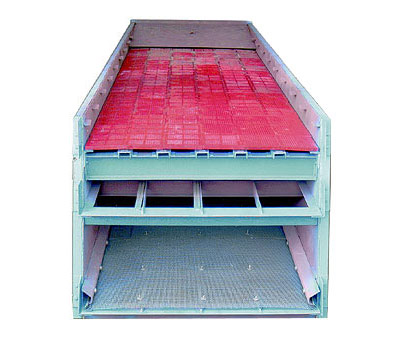 Screen Surfaces

Woven wire cloth has by far the greatest selection as to screen opening, wire diameter and percentage of open area. Woven wire screens are obtainable in a variety of metals and alloys. Spring Steel and high-carbon steel are generally favoured for the coarser openings because of their abrasion-resistant qualities. Polyurethane screen Pannels with decks can also be supplied for wet screenings, which have longer life & faster separation both in wet & dry screening.

Performance

" Efficiency" of Vibrating Screen is the ratio of the amount of undersize obtained to the amount of undersize in the feed.
Where 'E' is the efficiency, 'e' is percentage of undersize in feed and 'v' percentage of undersize in the Screen over size.


| | |
| --- | --- |
| Sizes | Throughput capacity |
| 3 feet x 8 feet | 60 - 80 TPH |
| 4 feet x 12 feet | 100 - 125 TPH |
| 5 feet x 14 feet | 150 - 175 TPH |
| 6 feet x 16 feet | 225 - 250 TPH |
| 6 feet x 20 feet | 225 – 275TPH |
Vibrating screens capacity design are for Iron Ore with bulk density of 2.2